Featured in: Bikeexif, The Ride, Bikeexif Calendar

After the first conversations with Kerem (sponsor of this project/kite boarder) we decided on a primitive but robust machine. Sr500 was first to pop into our minds after the fun we've had with the first one. Its simplicity and , light weight, robustness made SR our first target. Its really hard to find decent bikes in Turkey. Finding a Sr500 was even harder. We've managed to find one in Eskisehir in Mid Anatolia. Function wise we've aimed for a scrambler kind of riding posture to accomodate the rough road condition of Alacati / Izmir (One of the well-known surfing spots in Turkey).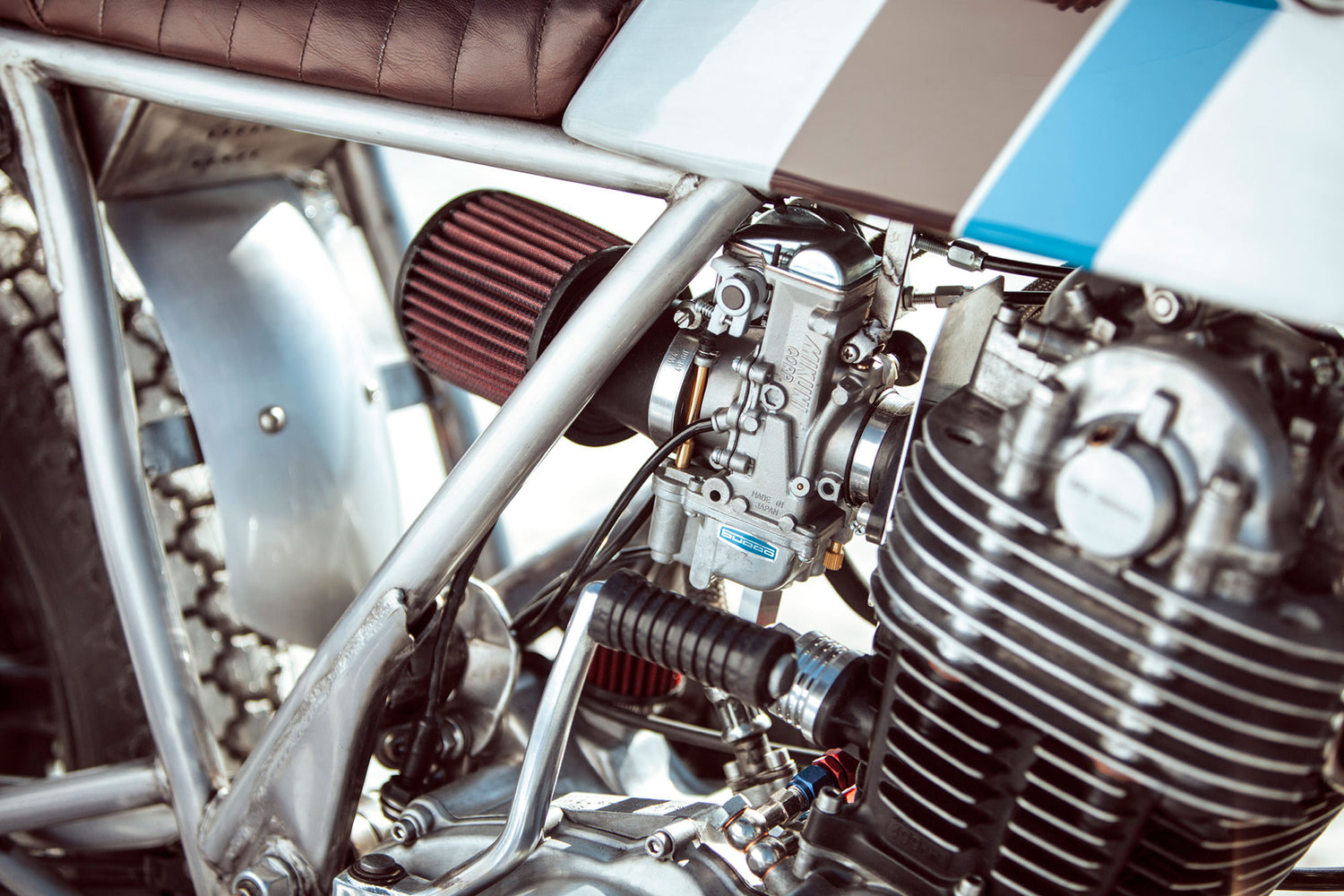 Style-wise, we've aimed for a handmade and raw look without loosing class and cool. A new custom gastank was a must for us. Altough we love the original gas tank we always thought it could have been better. We've also made a kite rack for him to carry his equipment. After the drawing process we started our work. We've tried to make the build as light as possible by using aluminum handmade parts.
Custom job explanation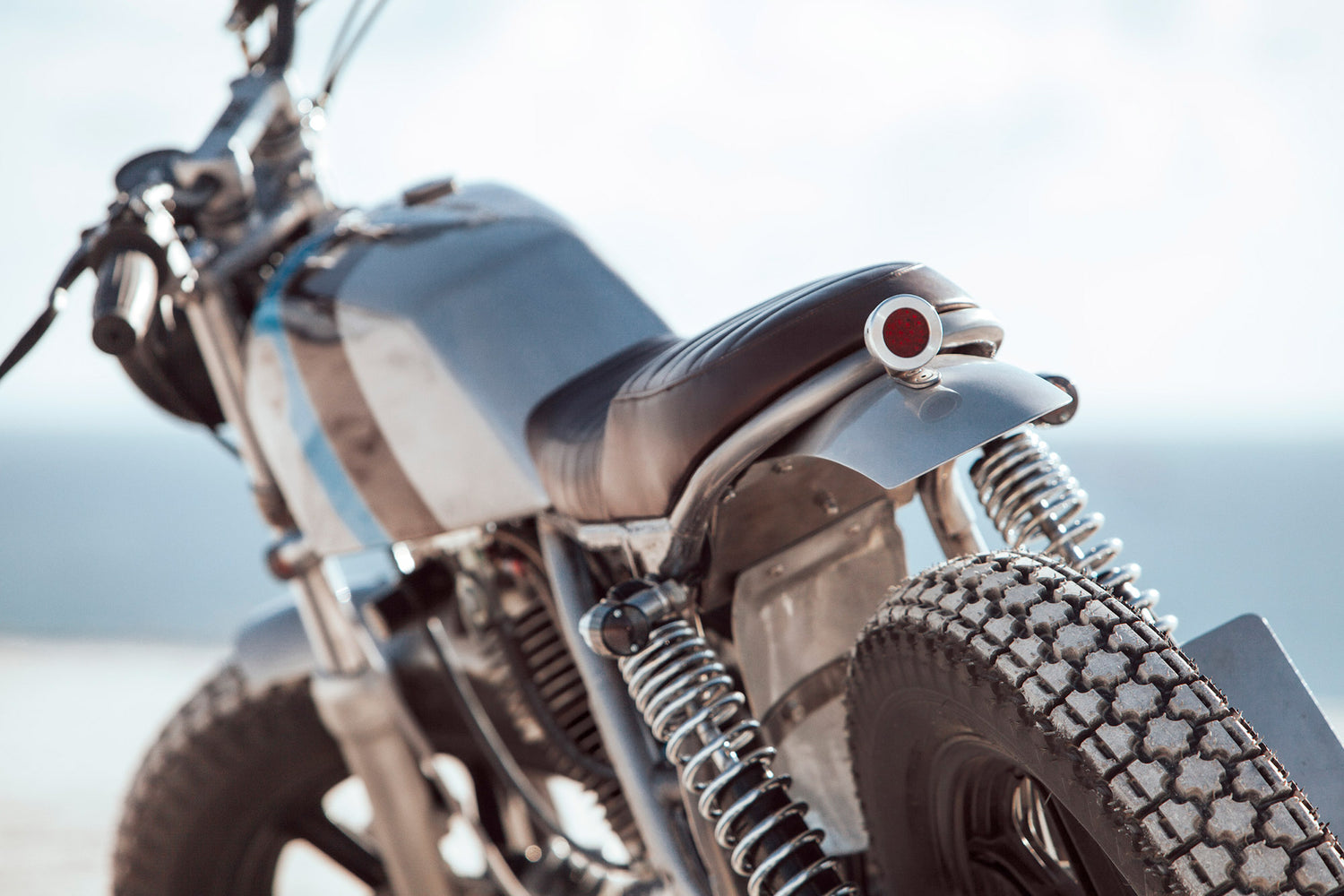 -We've fitted 14.25" longer Progressive rear shocks to rearrange the scrambler posture.
-Shortened and reshaped the tail section with a loop with a bratstyle slope to give a reasonable clearance for new mudguard and also considering new rear shocks travel distance.
-Fitted new handmade aluminum rear and front mudguards.
-Relocated the electric components and hide them under the seat. We've also trashed the battery and fitted battery eliminator kit.
-Rewired the electric and relocated the ignition key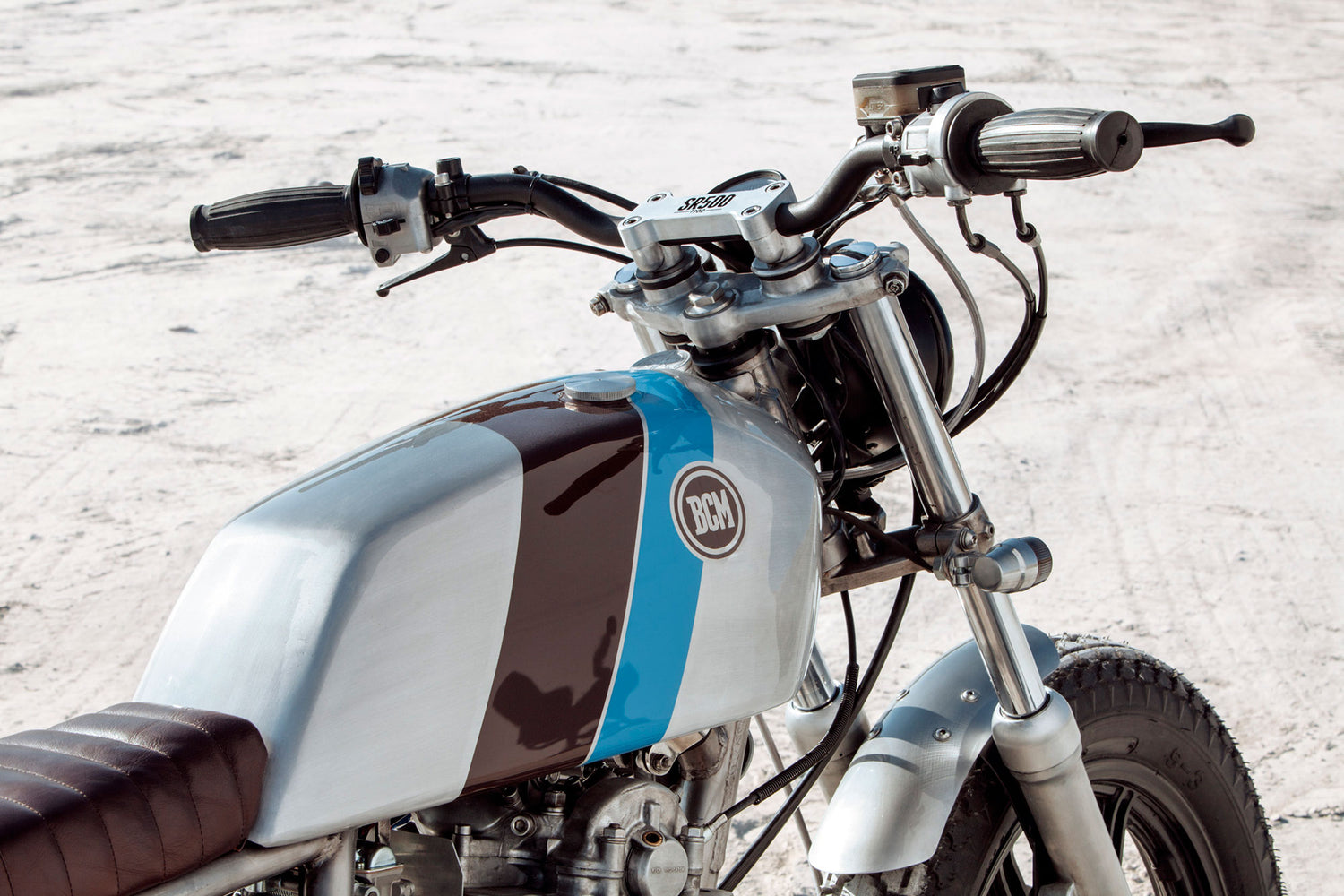 -To accompany the general look we've made a custom brown leather seat
-We've made a custom aluminum geometric gas tank. We've aimed to keep somewhat resemblance to the original Sr500 gas tank but also give a new more geometric design approach. But our main goal was to shorten the gas tank considering the new riding posture and ergonomy. We've finished it with brushed aluminum look and color stripes. And a clear coating to finish.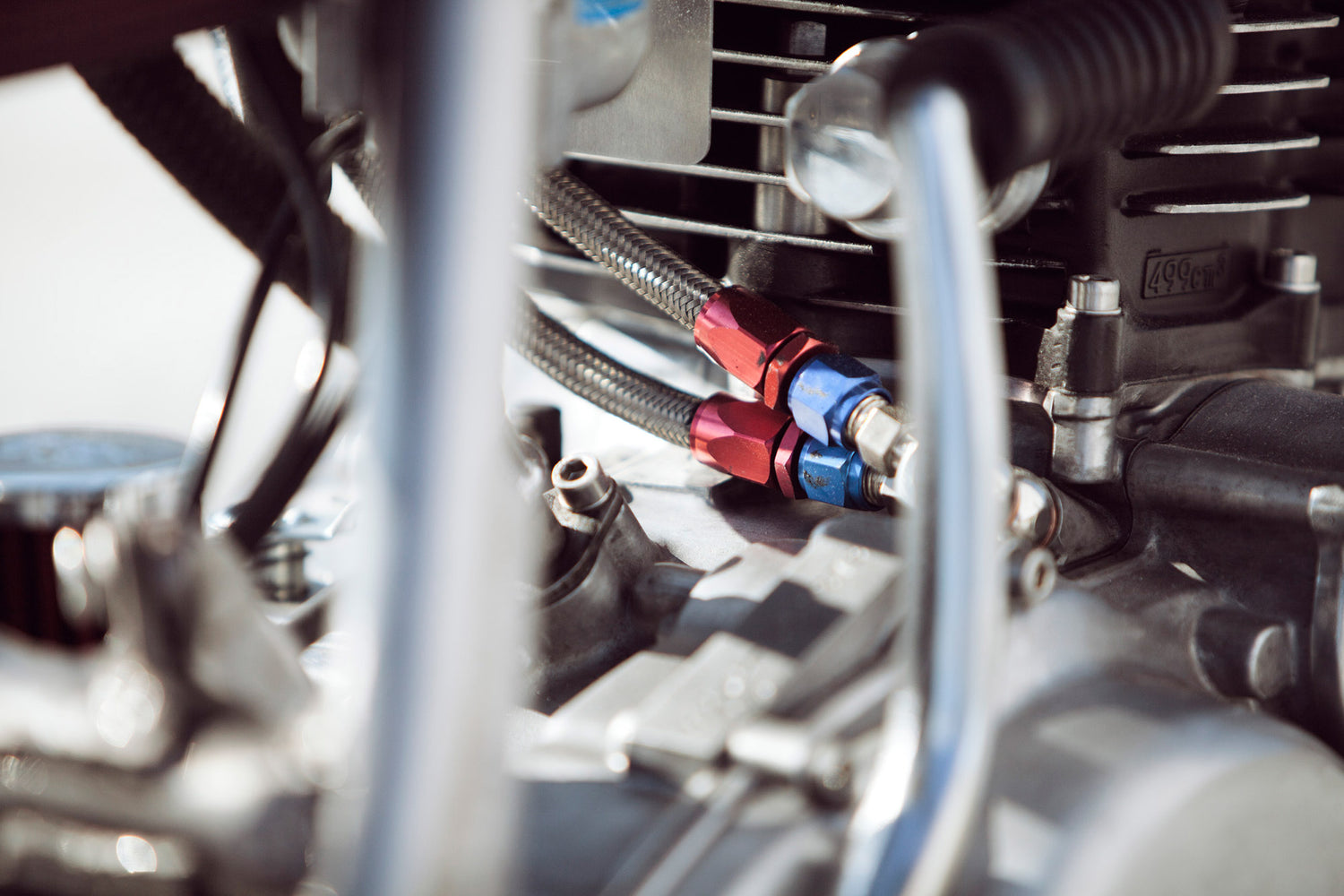 -We've re-honed the engine, replaced valves. Bored the intake from 34 to 38 mm's
and fitted 38 mm Mikuni Sudco racing carb. We've made a new broader exhaust pipe from stainless and fitted a dime city cycles stainless muffler. And fitted -K&N Open air filter. And tuned accordingly. Torque is amazing
-Fitted Motolana Double 1 to 2 Valve oil feed.
-Stripped down the chassis by hand sanding to accompany the raw metal look and coated it with electrostatic clear coat paint. And relocated stop and turn signal with aluminum ones accompanying raw metal look.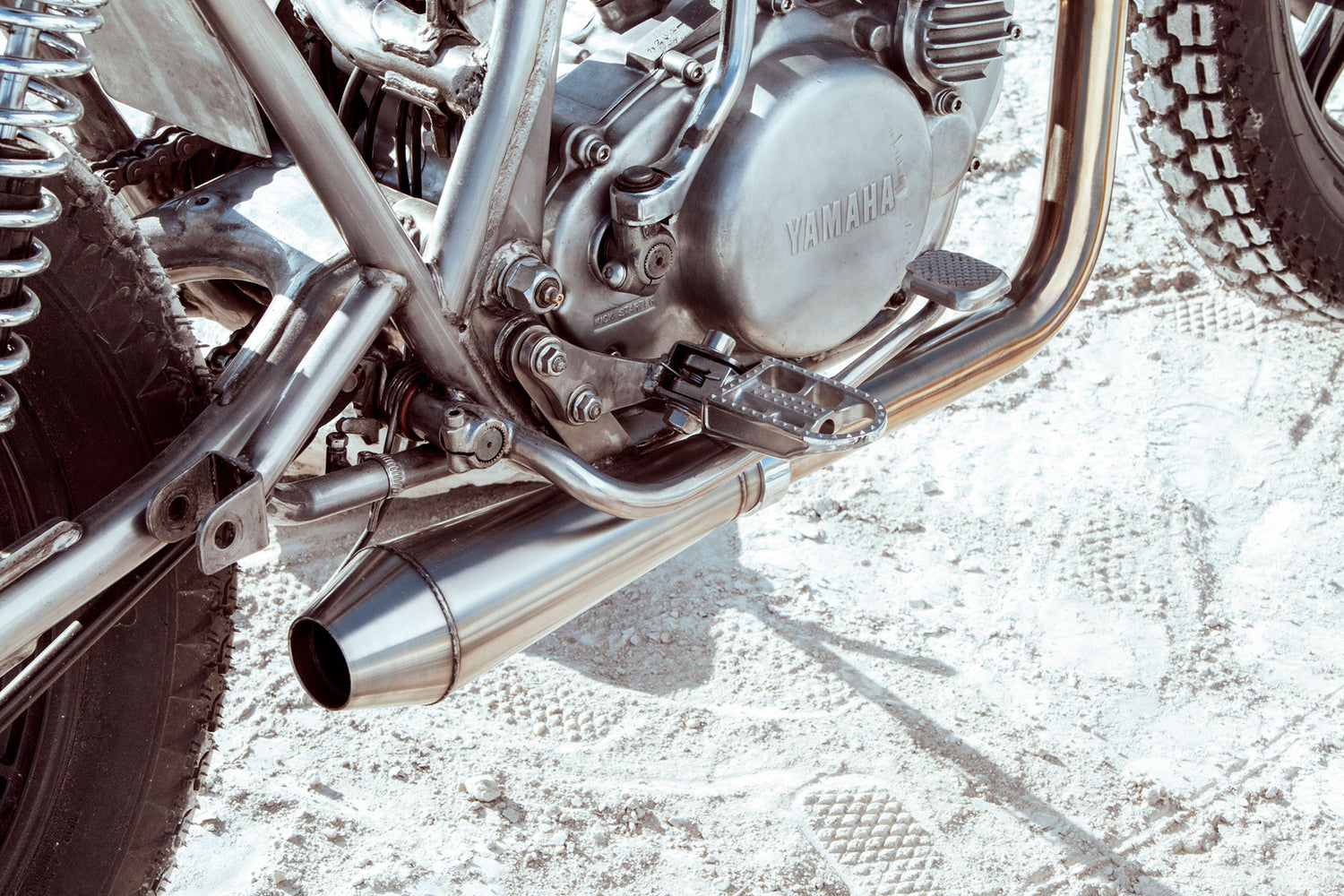 -Fitted a 4" headlight.
-Fitted Biltwell chrome footpegs to accompany new look.
-Firestone coker tires to allroad purposes.
-We've renewed the front disc
-Handmade aluminum engine guard and license plate bracket
-Our Friend Can Soylemez made a CNC cut handlebar clamp and engravedSR500 model and year typography into it.
-We've also made a kite rack.