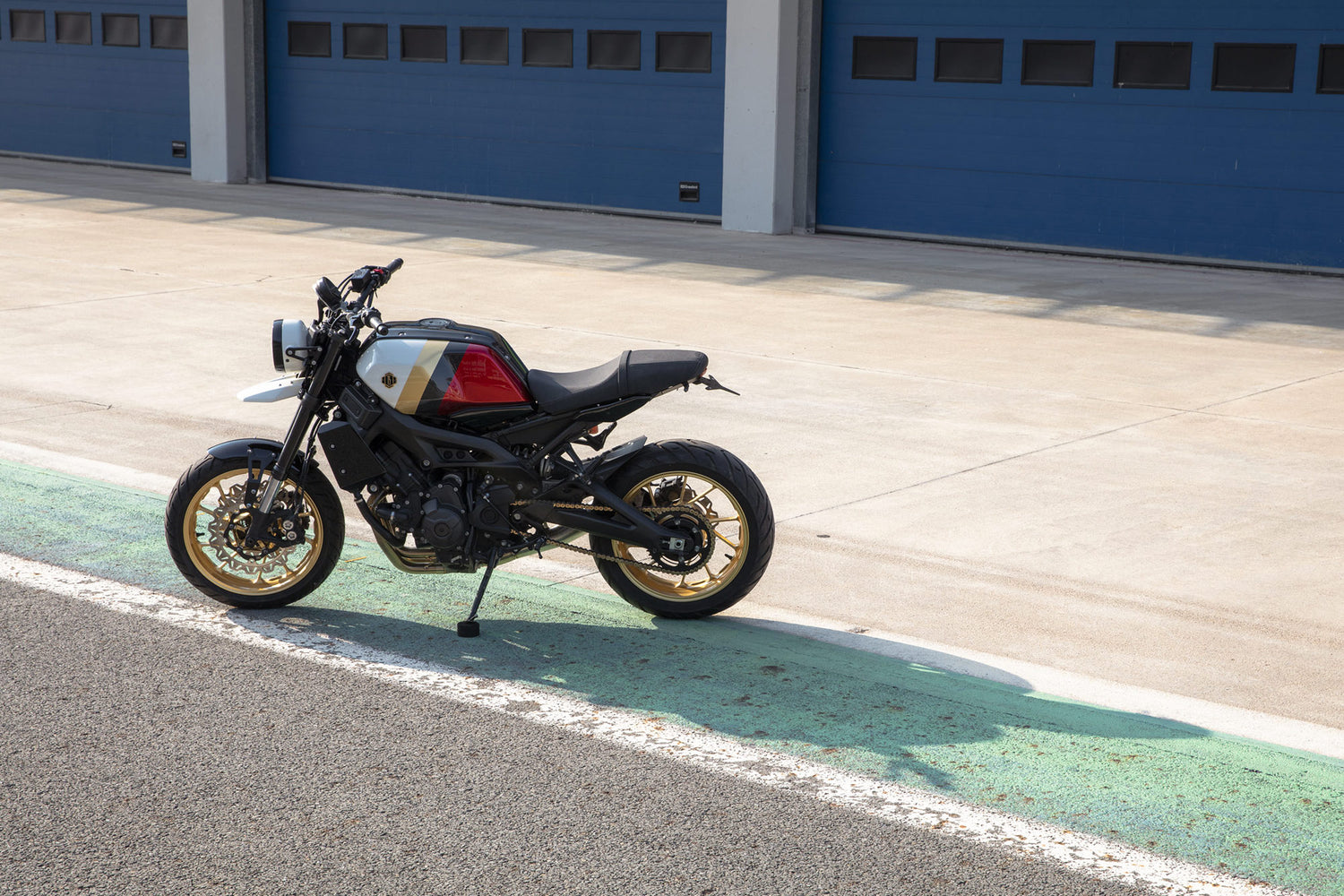 At Bunker Custom Cycles, we are always looking for innovative ways to build exceptional bikes, experimenting with different processes and materials. Our build philosophy is absolute perfection. We are proud to unveil Bunker Chimera – our take on an exceptional motorcycle. Chimera is the product of forward thinking in design, and meticulous R&D.

From a form perspective, the tank is the most significant design element of any bike – the signature of the bike, if you will. As soon as you change the tank the bike turns into something completely new. That's why we focused our redesign efforts on the tank. We envisioned a different silhouette to the XSR900 – one that reflected our unique design perspective. We also didn't want to beam it into the future or send it back in time to make it look like something its not. We wanted it to be proportional and clean. We wanted it to look `right`. We think we achieved just that with the new Chimera.
The tank panels are made 100% from high quality carbon fiber utilizing latest manufacturing processes. Pre-preg carbon fiber fabric is carefully laid over CNC milled aluminum moulds, then cured in a pressurized autoclave oven to get a perfect definition and the highest quality. They are then treated with UV protective glossy final coating for a show quality fit and finish.
Buy XSR900 High Fender
Working closely with suppliers and utilizing marine grade manufacturing processes, the finished product is absolutely flawless! Carbon fiber parts could be somewhat of a gamble – pattern slips, bubbles here and there, trim defects, and sub-par overall finish quality are all too common. Production is a tedious process and requires a lot of attention to detail to get it right. Specialized tooling and techniques are needed to get it absolutely perfect.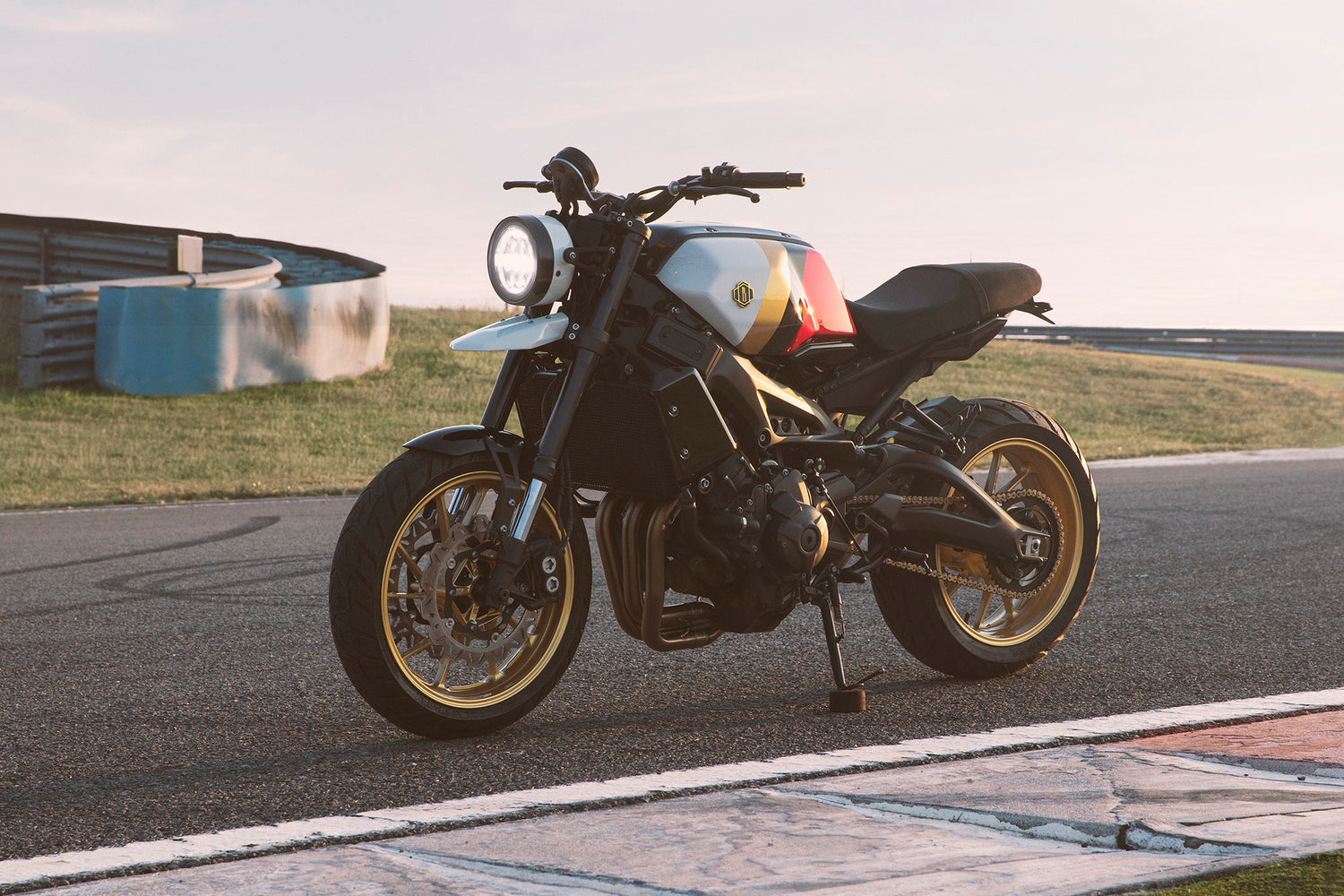 We deliberately kept the stock seat. Most custom projects' first priority is to ditch the stock seat, this time its the other way around. By redesigning the tank but keeping the seat stock we wanted to show how easily one can transform the XSR900 into something completely unique – just by swapping out the tank panels.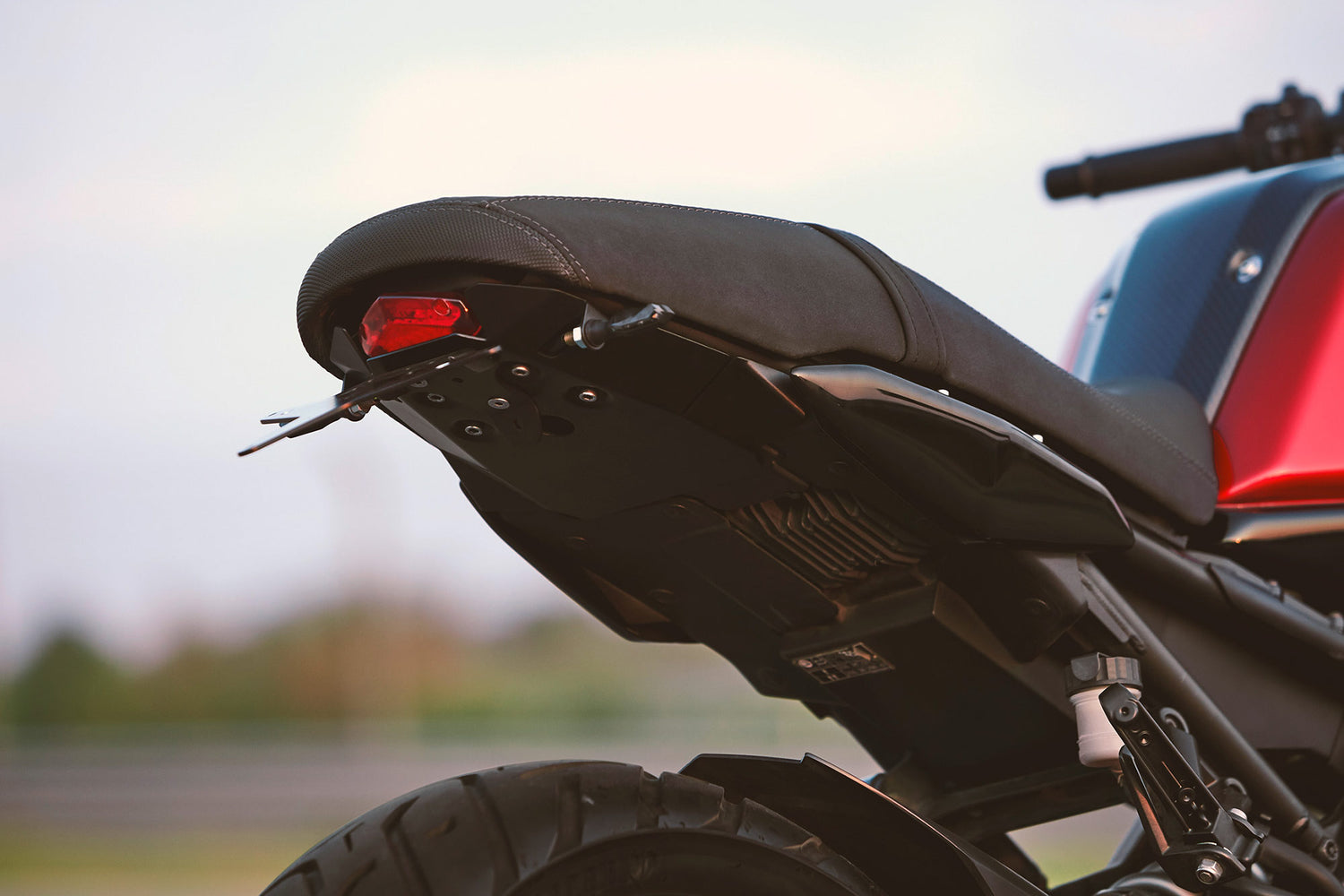 We cleaned up the tail section by removing the rear mudguard – wasn't really effective as a mudguard anyways – and we tucked the lighting elements under the seat with our tail tidy kit consisting of an aluminum cover protecting the electronics, a license plate bracket and stop lamp. It comes with 8mm turn signal holes allowing the user to use most universal turn signals on the market.
At the front we were inspired by the Ducati Hypermotard and Aprilla Dorsoduro, so we included a beak, and a sleeker front mudguard to complement that look- it made sense with the sporty upright riding position. We replaced the stock headlight insert with an aftermarket LED beam, resprayed the OEM headlight bucket, and mounted it with custom aluminum brackets. We finished off the front with an aluminum radiator guard and radiator side panels. For higher stopping power, we went with the Fully Floating Rotor System by EBC Brakes.
Buy XSR900 Headlight Bracket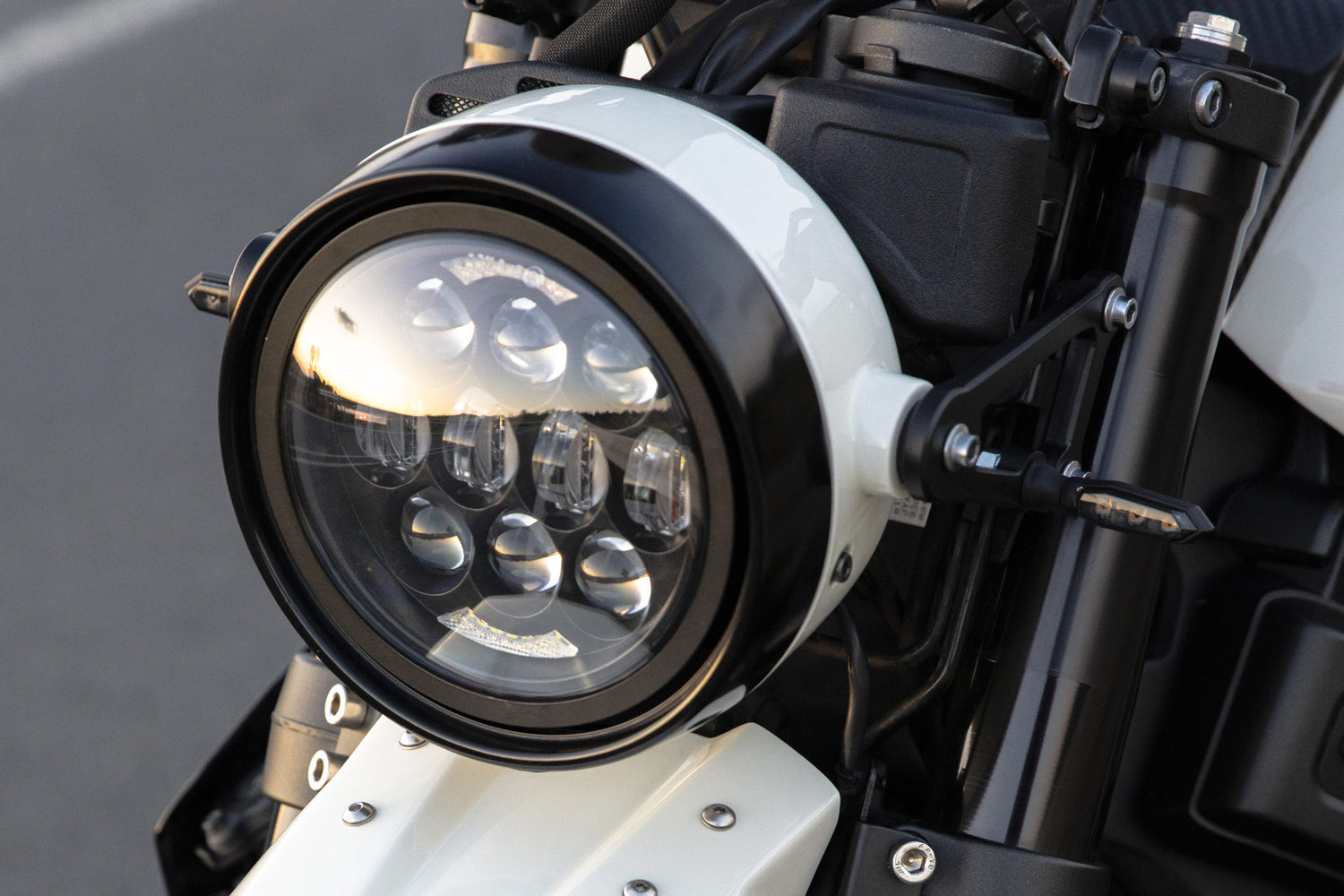 No engine or chassis modifications is allowed for Yard Built, and with the XSR900 platform we didn't feel the need to. Our aim in this project was how radically we could change the look of the bike with only bolt on parts. The single engine performance mod was an SC Project exhaust and A/F modifier which worked like a charm. The lower rev range came to life after a quick calibration. We used Anlas Capra RD tires for improved traction and road performance.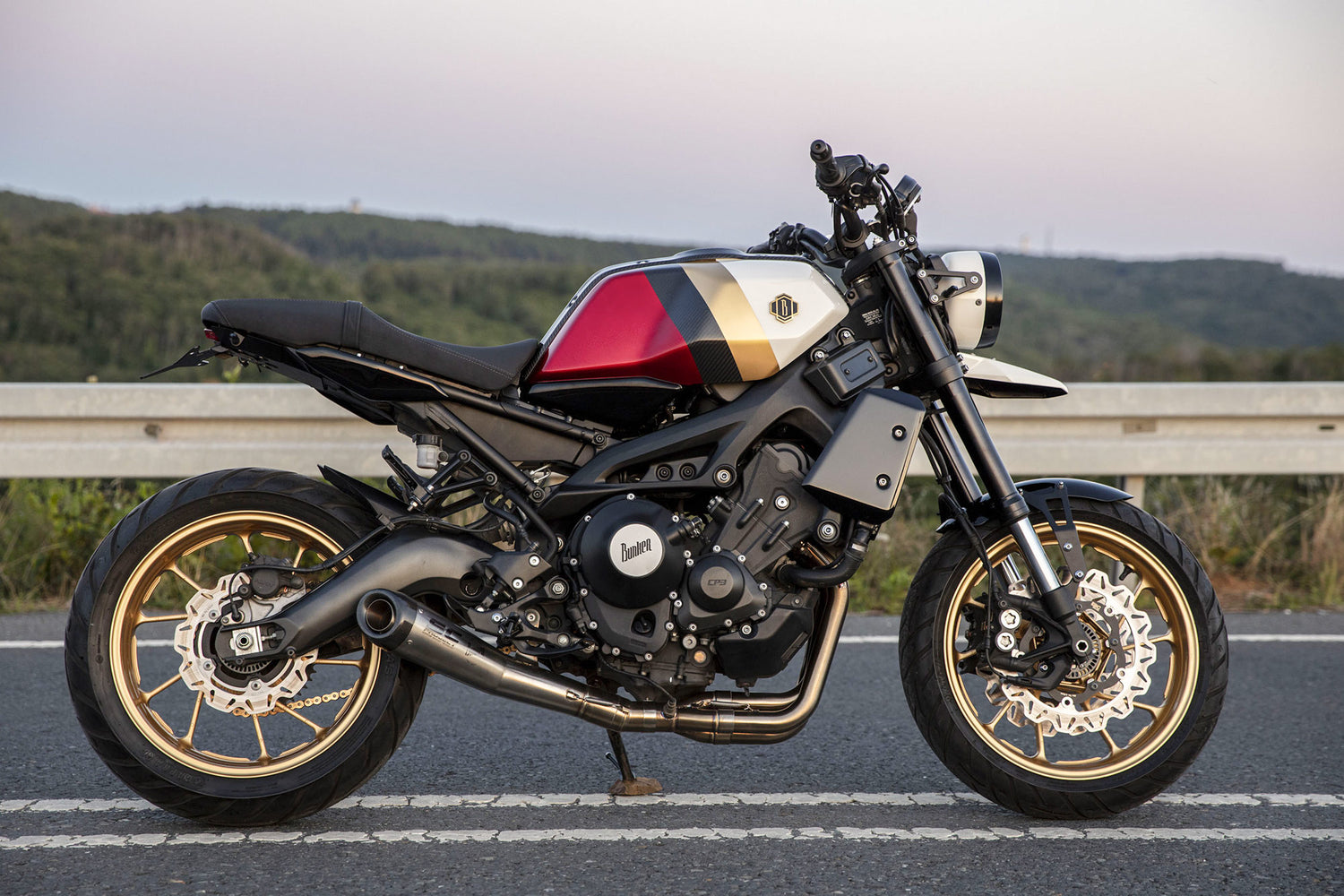 After a year and a half of hard mental and physical labor, utilizing a lot of resources, and learning from past experiences, we are now able to offer for purchase a tank cover kit for those who appreciate the look of the Bunker Chimera. The panels are a bolt-on, with no chassis alteration, and it only takes about 9 minutes to install – custom brackets (included in the kit), 6 Allen screws and 4 plastic rivets (one's that are already on the stock tank cover) are all that's involved.
What's next? Stay tuned!